The implant drills are not delivered sterilized. Sterilize before use.
It is extremely important to handle all drills and burs carefully; even slight damage to their tips can harm them. Damage to drill tips impedes cutting performance considerably! The following aspects must be observed as a part of proper drill maintenance:
Place the drill gently in the storage dish (e.g. filled with physiological saline solution), and never drop it directly onto its tip.
Never allow drills to touch one another while being cleaned in an ultrasonic unit.
Dentalis Implants ® strongly recommend using the Ultrasonic machine for the cleaning of the drills. It is important to avoid contact between drills in the ultrasonic unit! The Ultrasonic Cleaning Cassette can be used.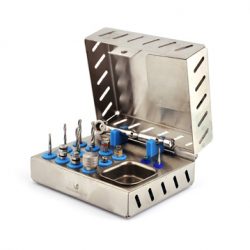 Never allow remains (blood, tissue remains, secretion) to dry onto drills; always immerse the instruments in disinfectant immediately after the surgical procedure.
Avoid solutions with aldehyde, which does not adequately remove proteins.
Do not use cleaning solution or disinfectants containing chloride or acid, and be certain that tap water is not too chlorinated.
Incrustations must be cleaned off thoroughly with nylon brushes only! Clean conical drills and cannulations (trephine-drills) especially well!
Rinse, disinfect, and clean drills thoroughly with water!
Sterilization by wet heat autoclaving 134°C (273° F) should take 20 minutes. Make sure that the elements inside the autoclave, are not rusted. Never store instruments while they are still moist or wet.
Do not mix implant drills with other drills, or any other tools of different materials, during cleaning and disinfecting
For the drills with removable stops, these steps must be carried out individually on the dismantled component. The implant drills cannot be used indefinitely.
Store the drills in clean and dry areas
Only use cleaning agents/disinfectants intended for drills
For further questions please contact us